Vapor Recovery Unit
Vapor recovery is the process of recovering the vapors of gasoline or other fuels, so that they do not escape into the atmosphere. This is often done at filling stations, in order to reduce noxious and potentially explosive fumes and pollution.

Vapor recovery is also used in the chemical process industry to remove and recover vapors from storage tanks. The vapors are usually either environmentally hazardous, or valuable to be recovered. The process consists of a closed venting system from the storage tank ullage space to a vapor recovery unit (VRU) which will recover the vapors for return to the process or destroy them, usually by oxidation.

Vapor recovery units are also becoming commonly used in the oil and gas industry as a means of recovering natural gas vapor and making it a usable and profitable product. Specifically a newer form of vapor recovery technology, Ejector Vapor Recovery Units create a closed loop system which not only recovers valuable vapor, but also reduces methane and VOC emissions.
Operating Pressure : 33 mbar ~ Atmosphere
Configuration of a typical Vacuum Pump System

Adsorption (Carbon Bed)
Inlet Isolation Valve

Screw Dry Vacuum Pump

with Liquid Injection
Absorber Column
Features and Profits for VRU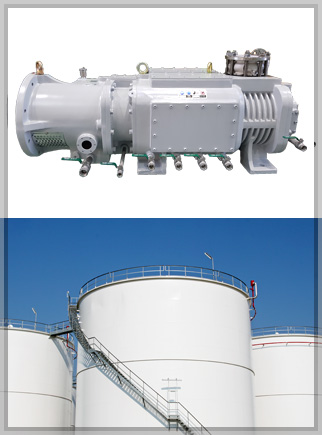 Designed Pump Mechanism

apt for Vapor recovery system

High Efficiency of Back Pressure

by Characteristic Functional Screw Profile

Excellent Discharging

leave No Liquid Residuals after Gasoline injected

Keep on Low Temperature

by high discharging efficiency and gasoline injection

Compact Structure & Size

make approx.30% lower Power & Utilities Consumption

Unique Lubricating device

protect Seal & Bearing and keep them longer durability

Robust and Reliability